August Reunion Meeting Award Presentation
Bill Cappel Volunteerism Award . The 2023 recipient of the award is Dave Epplen. Dave played baseball for Thomas More College. In 19892 he held the "National Batting Average Title." Dave was a 4–year starter at TMC. For over 30 yearsDave served the youth of Northern Kentucky as district 28 Knothole Umpire and with the Northern Kentucky Baseball Umpires Association . Dave was honored being selected to Umpire the "All 'A' Classic Baseball Tournament," at Lexington legends Field in 2015.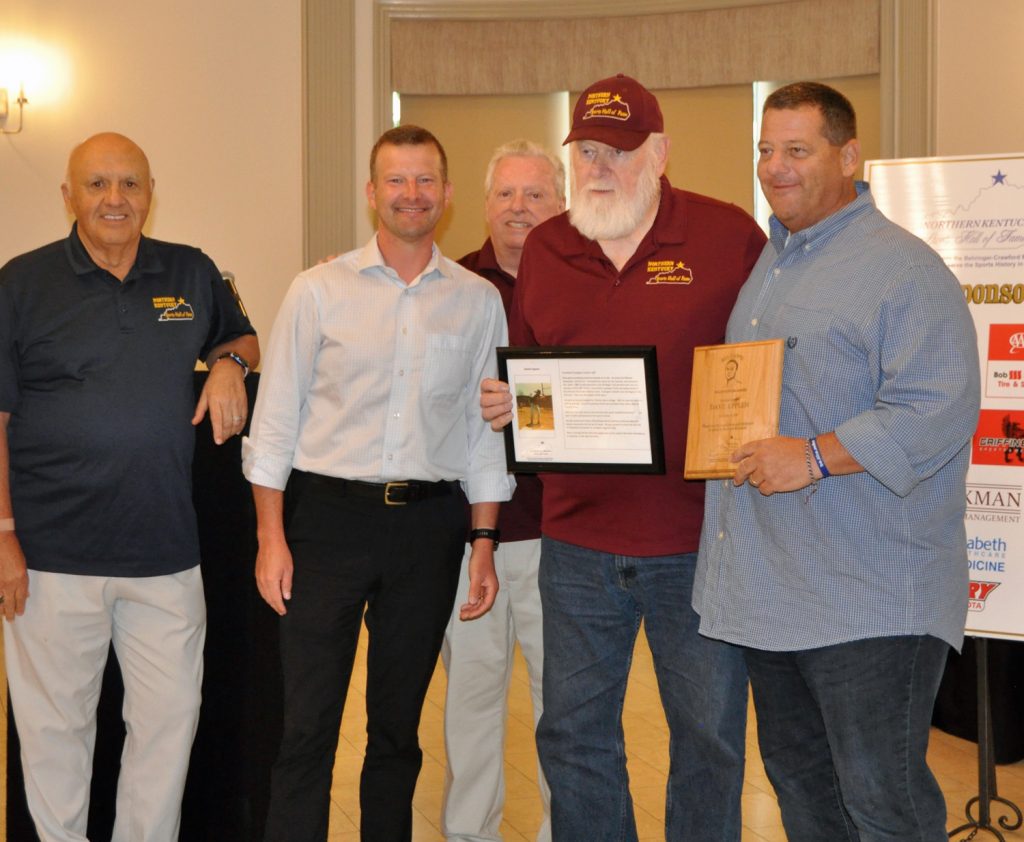 Pat Scott Lifetime Achievement Award. The 2023 recipient of the award is Jane Meier. Jane is being honored for her Outstanding work as a Coach/AD. at Northern Kentucky University. Jane coached two sports per year, for 10 years including volleyball for 10 years (1978 – 87), basketball for 2 years ( 1981 – 1983) and softball – 8 years (1978 – 1981 and 1984 – 1988). Jane then served as Athletic Director for 21 years at NKU, being the first women to hold such a position at a a Kentucky Public Institution of Higher Learning. Jane managed 36 administrative staff members and coaches at the university. During her tenure NKU won 61 Conference Titles, 20 NCAA Regional Titles, their teams made 13 trips to the Final Four, 5 Championship Game appearances, while winning 2 National Titles. Jane has the distinction of being the coach to lead teams to the National Tournament in 3 separate sports Basketball, Volleyball, and Softball. During her career as an AD she was honored with 5 National Leadership Awards. Including the 2001 "Administrator of the Year" by the Women's Basket Ball association, 2011 NCAA Div II Athletics Director Association "Lifetime Achievement Award." Jane is a member of 10 Halls of Fame, Notre Dame Academy High School, NKU, College of Mount St. Joe, Great Lakes Valley Conference. National Association of Collegiate Directors of Athletics, and the Norwood Sorrento's Softball Hall of Fame.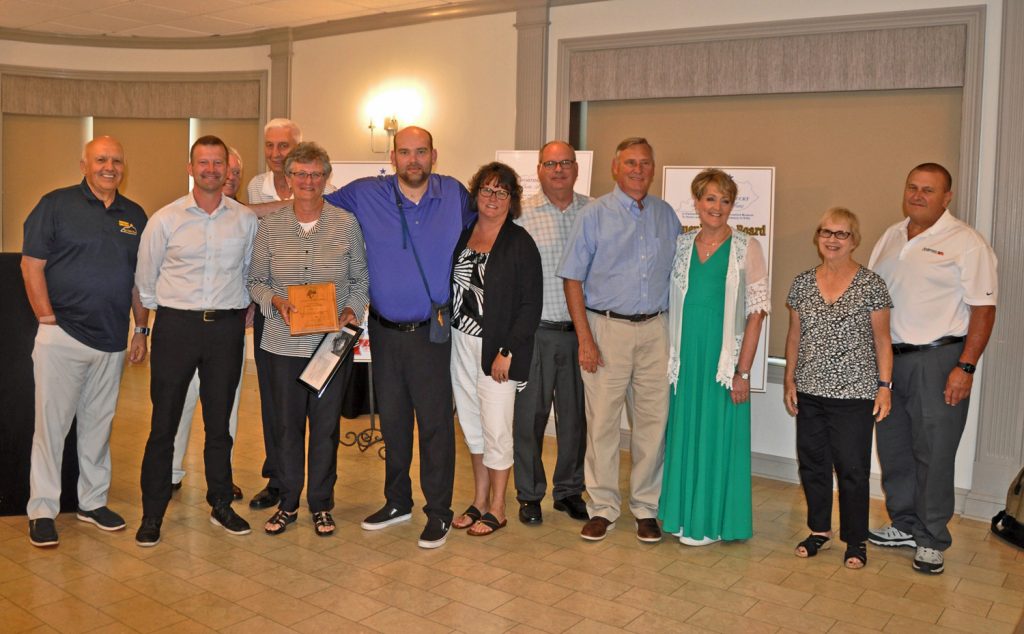 James "Tiny" Steffen Humanitarian Award. The 2023 recipient of the award is Bill Brauns. Bill served on the Board of the Big Steff Foundation for 30 years providing food and services to Senior Citizens and less fortunate in Campbell Co. bill is a 50+ year member of the Bellevue Vets and was involved in youth sports and maintenance of the facilities at the Vets. Additionally Bill provides services and time to the Parish kitchen, St. Bernard Church in Dayton, and Holy Spirit Church in Newport. In 2023 Bill was inducted into the Kentucky Veterans Hall of Fame and organization he works closely with in providing storage facilities as sell as transportation service via his trucking company, for all their event materials. As a Board Member of the "NKYSHOF" Bill provides Food and Snacks at the Annual Golf Outing.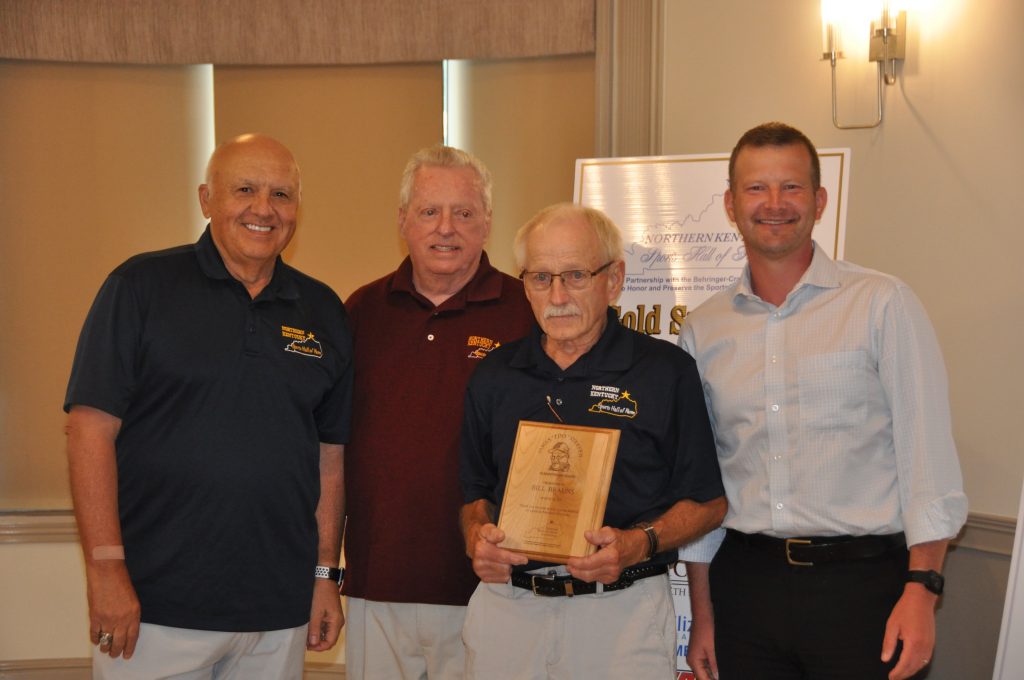 Tom Fricke Service Award. Tom initiated the idea of Behringer – Crawford Museum and NKYSHOF partnering to display Sports Memorabilia. Additionally Tom was a Covington School Board Member, where he was able to assist students in his love of sports and their educational values. The 2023 recipient of the award is Rodney Hamilton. Rodney was a long time player of softball playing on numerous teams a d was a member of 5 Championship teams. He served as the catcher for the farmers Bank and Drysdale Trucking as the ETP All-Stars. In addition to these teams he participated in the sport with the WUBE All-Stars, and the Cincinnati Red Stockings Hall of Fame Team that player in vintage 1869 uniforms and have without gloves since 2011. Rodney was a plumber injured in an accident in 2020 that resulted in the loss of his left leg. Rodney vowed to return to the Red Stockings Team and in 2023 he walked in the opening day parade. In 2023 he is to be honored with throwing out the ceremonial "First Pitch" to "Hall of Famer" Johny Bench at a Reds game.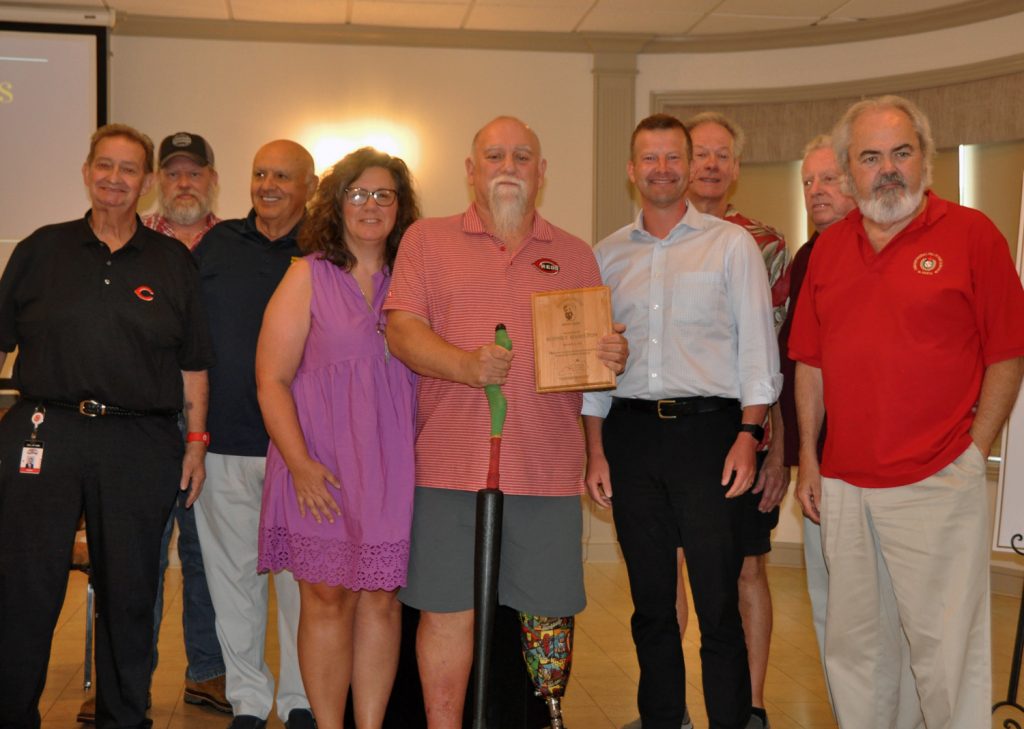 Dr. James Claypool Pioneer Award. The 2023 recipient of the award is Terry Connor. Terry graduated from St. Henry High School and played basketball and baseball, he then went to Thomas More College was a starter all four years in attendance at THC. He coached Basketball at Bishop Brossart and Dixie High Schools and left to coach basketball at Thomas More in 1998-2007. Terry assumed the duties of Athletic Director and has been a part of 130 Conference Championships, 5 team National Championships, 1 individual Championship, as well as 86 National tournament appearances. Terry was instrumental in bringing football, soccer, Lacrosse, and Track to the University. Bring the total programs at the school from 23 to 27 and over 600 Student Athletes. Terry was instrumental in bringing to campus the Republic Field, having new lacrosse lines being added to the surface, and adding a new playing surface in 2021. In 1998 Thomas More added, under his direction a Softball Field with numerous upgrades added throughout the years, a track in 2009 with a surface upgrade in 2020. in 2008 Griffin Plaza was added to the campus sports complex housing, football offices, locker rooms, press box, concession stands and restrooms. Finally in 2023through his efforts, Thomas More partnered with the Florence Y'ALLS to create the Thomas More Stadium.